Like them or loathe them, reviews and feedback are a fact of life for the business owner.
So why are reviews so important?
Reviews will

increase your sales. Happy customers + good feedback = more customers for your business.

Reviews will

improve your rankings online. Want to become more noticed by search engines such as google?

Reviews will

help generate customer engagement. Want to get to know your customers more?

Reviews are

overtaking the 'word of mouth marketing' with savvy consumers researching you.

Reviews can create customer loyalty and will ensure the customer uses your service/services again.


But trying to generate reviews can be hard work


The Local Consumer Review Survey 2016 stated that: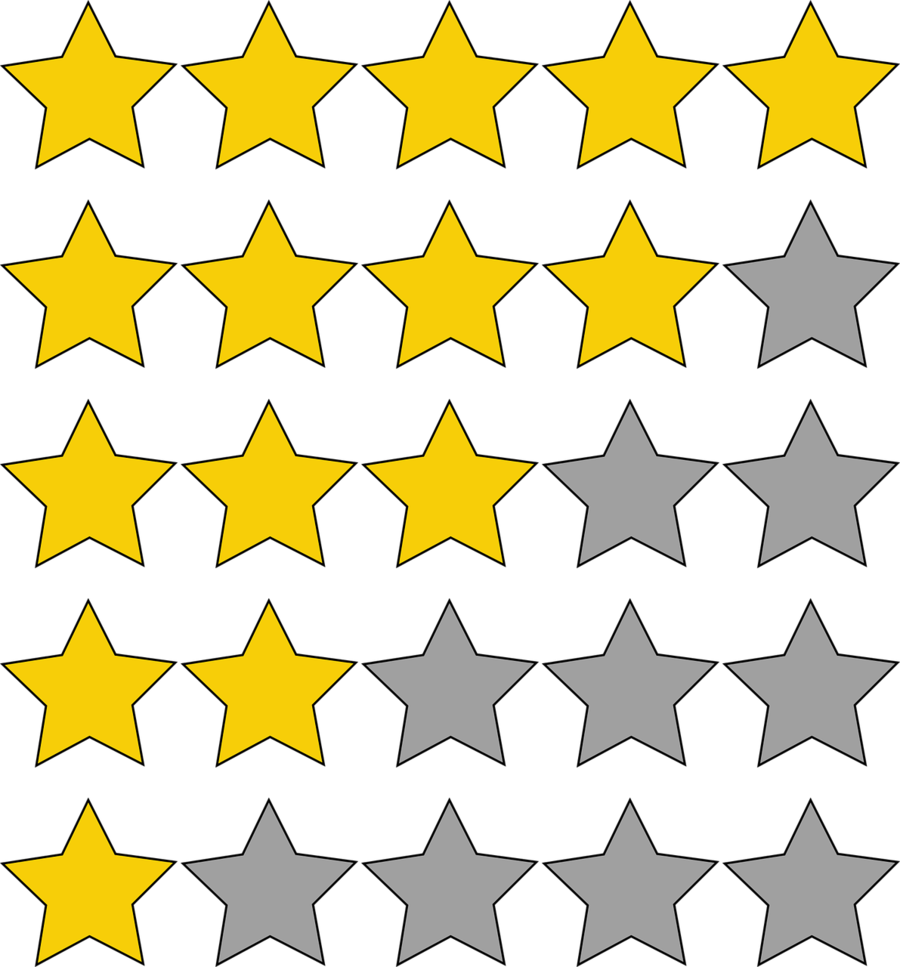 84% of people trust online reviews as much as personal recommendation.
90% of consumers read less than 10 reviews before forming an opinion about the business.
74% of consumers say that positive reviews make them trust a local business more.
70% of consumers will leave a review for a business if asked.

Competition and Markets Authority Senior Director Nisha Arora, said:
'Millions of people look at online reviews and endorsements before making buying decisions, and so it is crucial that review websites check and present reviews in a way that ensures consumers can trust them.
Review sites play a critical role in giving consumers this valuable information and ensuring that consumers can trust the reviews they see.'

How do I try and stop people leaving negative reviews?
You can't. Not all reviews will be positive, it is unrealistic to expect 100% positive customer feedback. The reality is consumers are more likely to leave negative opinions rather than positive.
Human nature is quick to criticise and slow to praise.
So take the offensive, don't just sit and wait for the negative reviews, invite your customers to leave feedback. Decide which review platforms you want to use and start generating feedback. Don't just rely on one, you want a positive online reputation so invite customers to leave reviews on social media, Google and review sites.
Ignoring review collection won't stop them from appearing. There are plenty of sites out there that will be happy to publish your customer feedback regardless of what you think. So take control.


What is the best way to respond to a negative review?
None of us like reading negative feedback about our business. But keep calm, remain professional, keep things in perspective, don't take it personally and remember to move on.
Remain calm; is it genuine? If you have doubts about the authenticity can you escalate to the review site? There are two sides to every story and you should be able to have yours. Competitor bashing can be a problem on a lot of review sites, but there is normally a way to report or escalate a review.
Remain professional; If it is genuine, then you can't change the negative review, but focus on what you can do to turn the situation around. A lot of reviews are actually borne out of frustration and poor communication. It may be that the reviewer will amend their comments to reflect remedial action you have done. This tells potential customers that if something does go wrong, you are quick to resolve issues.
If the review has a right to reply ability, then use it. Explain your side of the story. Keep it short, professional and factual. Let the website visitor draw their own conclusions. If you have dropped the ball, be honest, but remain positive. "we didn't respond to the customer email, but have now a new process in place to ensure this can't happen again".
Thank the viewer for their feedback and if possible resolve the issue!
Negative reviews are also a good source of customer data. If you are receiving a number of complaints about the same thing then maybe you have a genuine issue that needs resolving. It may be a staff training issue, lack of customer service, or maybe a fault with a supplier. Whatever the issue, now you are aware of it, it needs to be resolved.


How not to generate reviews - NEVER NEVER NEVER do this!
A whole industry has sprung up where online reputations can be manufactured overnight by unscrupulous companies. Have you heard of the expression astroturfing? This is name given to the practice of creating faking reviews.
Faking reviews is illegal under the Consumer Protection from Unfair Trading Regulations 2008.
Unfair being deemed as: "It affects, or is likely to affect, consumers' ability to make an informed decision about whether to purchase a particular product"
Most review sites now moderate reviews, and some even publicly name and shame companies that fake reviews.
If you value your reputation, steer clear of writing your own feedback or asking people to fake reviews for you.


How and where to generate reviews?
You can generate and display reviews and customer feedback on your website, inviting any customers to give their five pence worth.
But reviews are treated with greater respect when they are on a third party review site. As I said earlier, generate lots of reviews across different review sites to spread your reputation. You want customers who google your name to see lots of positive feedback.
Here are some suggestions:
Social Media - Facebook and other platforms allow reviews. On your Facebook Business page you can allow people to leave reviews. You can also switch this off if you go into your page settings. Reviewers will need a Facebook account to be able to leave a review.
Google Reviews - You should have a Google business listing. If you haven't, get one! www.google.co.uk/business

. This listing will show up in Google search results, normally on the right hand side and visitors will have the ability to leave a review. Like Facebook, reviewers will need an account to be able to leave a review which can be a challenge.

Professional Bodies - Are you a member of a tradebody, trader scheme or association? A lot of these have facilities to generate reviews.
TrustPilot - TrustPilot are a professional review site that allows visitors to easily leave reviews. Reviewers can actually create a listing for you, then review it. So if you aren't on TrustPilot, then it might be wise to list your details -uk.business.trustpilot.com. It is free to use although they have paid professional solutions, including only allowing confirmed customers to leave a review. But we use the free one and it works fine.
Business Directories - This one is down to you as I'm clearly biased Having your reviews on a few directories is a good way to spread your reputation. Choose directories that professionally moderate their reviews. If they have any tools to help you generate reviews then take advantage. FreeIndex has been doing this for some time, and Yell can be a good place to generate reviews. Hopefully you will consider My Local Services as part of your review mix.



Introducing our new Review Widget: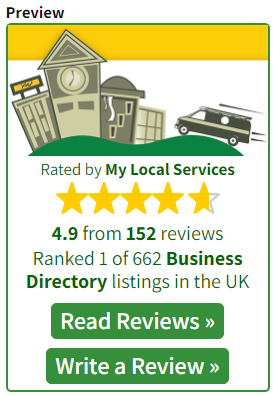 Following our recent platform launch, one feature we have been recently asked for is a review widget that enables business owners to easily display third party reviews on their own website.
So here it is and hopefully SO easy to use and edit.
I'll go through the steps on how you can access this and use it to your advantage.
1. Log in to your business listing editor
From here you can edit your business listing as well as create your review widget.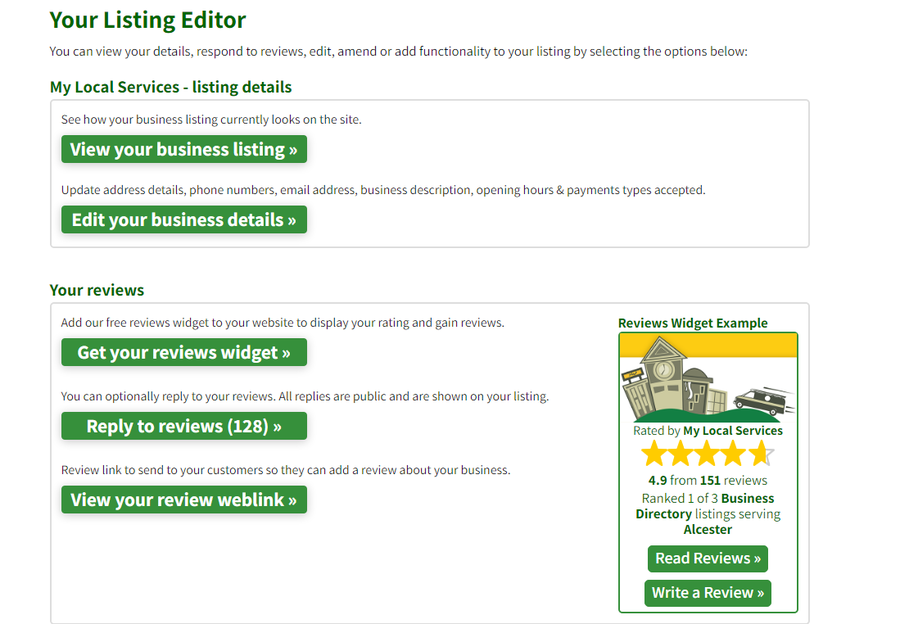 Once you have accessed your listing editor, you are then able to see your review widget. Select "get your review widget"


2. Edit your Review Widget
You can change the colour or size or choose to show or remove our logo. You can also decide if you want to be ranked for your local area or across the UK. Have a play with the options so it suits your website.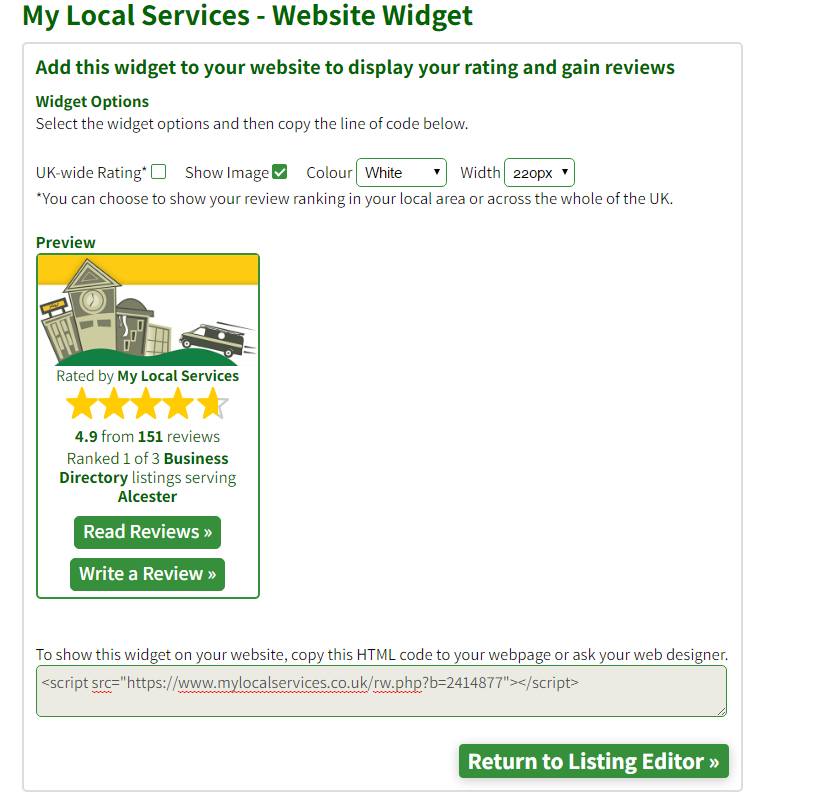 3. Copy and paste
Once you have finished editing, copy the line of HTML code given in the box on to your webpage or ask your web designer!
4. Results in action
See the results! How fab does the Barnet Window Company widget look on their webpage.
www.barnetwindowcompany.co.uk/customer-reviews/
Stuck, need help or have any questions?
If you would like any help assistance creating or putting a review widget on your own website, or have any questions in general about reviews, let me know below or give us a call on 0333 444 0198.
Or just let me know what you think of the post