Christmas is a great time to bring family and friends together, but a risky period for food poisoning. Numbers of food poisoning cases in the UK are estimated to be around one million - and many break out during the festive season.
So, I have put together some useful tips to help prevent food poisoning over the holiday period. Let's make it a festive season to remember for all the right reasons, and for you to enjoy the most wonderful time of the year.
Cooking a Christmas roast can be a challenge and it is vital that the turkey, or other meats of choice, is stored, defrosted and cooked correctly. You need to consider leftovers from Christmas, if the intention is to reheat foods, then it is important that you know how to reheat, and thereafter, understand about consuming food within specific time frames in order to avoid food poisoning.
Food poisoning is very much misunderstood by people, people think it's just a passing stomach bug, wrong; it can have serious consequences - especially for children, people already in ill-health and older people.
As a food safety specialist, I teach people about the 4'C's of food: safety/hygiene: chilling, cleaning, cooking and avoiding cross-contamination all very important throughout the year, but especially during this coming festive period.
Christmas preparations can be overwhelming, so it's important to remember to plan ahead and allow plenty of time. Remember that an average-sized turkey can take four days to fully defrost in the fridge, and it is vital to thoroughly cook a turkey so it is steaming hot, there is no pink meat visible, and juices run clear."
BEFORE THE BIG DAY
Avoid cross-contamination when doing your Christmas food shopping. Make sure you take enough bags so you can pack raw and ready-to-eat food separately. Have a bag or two with a big letter R written on them in permanent black ink. Then, each time you shop you will know which bags are used for raw food, thereby, avoiding cross contamination of ready to eat foods.
In the fridge, keep raw food covered and chilled on the bottom shelf of the fridge and keep the fridge cold below 5°C (1°C to 4°C) and don't rely on the fridge dial as a true measure of the temperature within the fridge. Invest in a fridge thermometer and make sure you regularly check that the fridge is cold enough.
If your turkey is frozen, make sure you check the guidance on the packaging to ensure you have enough time to fully defrost it. Defrost it according to size - a typical turkey weighing 6 kg to 7 kg could take as much time as four days to fully defrost in the fridge.
As a guide for defrosting in a fridge at 4°C, allow around 10 to 12 hours per kg. It is safe to defrost a turkey In a cool room (below 17.5°C) allow approximately three to four hours per kg, or longer if the room is particularly cold, but never defrost a turkey (or any other meats) at room temperature.
Always defrost the turkey in a container large enough to catch any juices. If necessary, use a microwave on the 'defrost setting' directly before cooking. Some turkeys can be cooked from frozen if the manufacturer's instructions say so. If yours is one of these, always follow the manufacturer's advice. Always make sure your turkey is fully defrosted before cooking.
Check out the link below from the Food Standards Agency (opens in new page).
Defrost your turkey safely
CHRISTMAS DAY
Avoid cross-contamination by using different utensils, plates and chopping boards for ready-to-eat food and raw food. Don't wash raw turkey or any other meat - it splashes germs on to your hands, clothes, utensils and worktops. Thorough cooking will kill any bacteria present.
Check out the link below from the Food Standards Agency (opens in new page).
Don't wash raw turkey
To work out the cooking time for the turkey or other meat, check the guidance on the packaging and the manufacturer's handbook for your oven if you can. As a general guide, allow 45 minutes per kg plus 20 minutes for a turkey under 4.5 kg. Allow 35 minutes per kg for a turkey weighing more than 6.5 kg.
When using a temperature probe -you should ensure the thickest part of the bird (in the deep thigh) reaches a temperature of 70°C for more than two minutes. This temperature guide also applies if you're using a cooking thermometer - which is left in the bird while it cooks.
Always check that the meat is steaming hot throughout and there is no pink meat visible when you cut into the thickest part and that the meat juices run clear.
POST-CHRISTMAS
Once Christmas day is over and you have lots of delicious leftovers, be sure to follow these guidelines.
Cool any leftovers at room temperature, then cover them and ensure they go into the fridge or freezer within one to two hours.
If you freeze cooked meats, once defrosted, eat the food within 24 hours.
When you come to use frozen leftovers, make sure you defrost them thoroughly in the fridge overnight or in the microwave (on the defrost setting) and then reheat until steaming hot.
Don't forget that leftovers should be eaten or frozen within two days (one day for rice dishes).
Once you've followed these guidelines around food hygiene, it's time to sit down to a perfectly cooked meals with your loved ones and enjoy this festive season.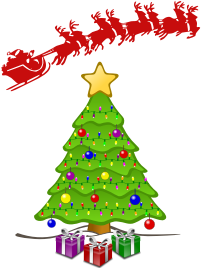 Merry Christmas and a Happy New Year for 2019.