redstone - Profile
redstone
Forum title
Forum Member
Joined
Jun 2016
Posts
102
Thanks
4
Thanked
22
Latest activity
16th Apr 2021 11:20am
The quality of a decision is like the well-timed swoop of a falcon which enables it to strike and destroy its victim.
When we talk about SEO, Google comes to mind, for most search engine marketers. And, it makes sense.
"
This sounds like the kind of question that would work on Quora. "
Quora is our bestfriend. I always go there whenever I need to get enlightened.
"
I've been a fan of Quora for a long time, and end up spending many hours disappearing on wild tangents, following stories or themes I've subscribed to. Normally completely non-work, but always fascinating and always learning new things.
I had heard Quora was a favourite target for SEO's, ie target a conversation relevant you to your business, answer a question or provide a solution, whilst linking to your business. Those that can't pull it off just look like the usual low-grade spam. But some get some very good results when done properly.
Then I heard Quora had moved into PPC. After initially dismissing it, I decided to explore it as a possible replacement after falling out with Google (that's another story). So I had a dabble, without spending any time on it, created only 1 advert and started a campaign with a healthy dose of cynicism.
To my surprise, it was actually generating conversions, albeit only a few, but was only costing me about £1.50 a day! I got sidetracked and it was a couple of weeks later when I managed to allocate some time to sit down and look at it properly.
I created multiple adverts, targeted specific topics, and added country exclusions. Guess when I started taking it a bit more seriously...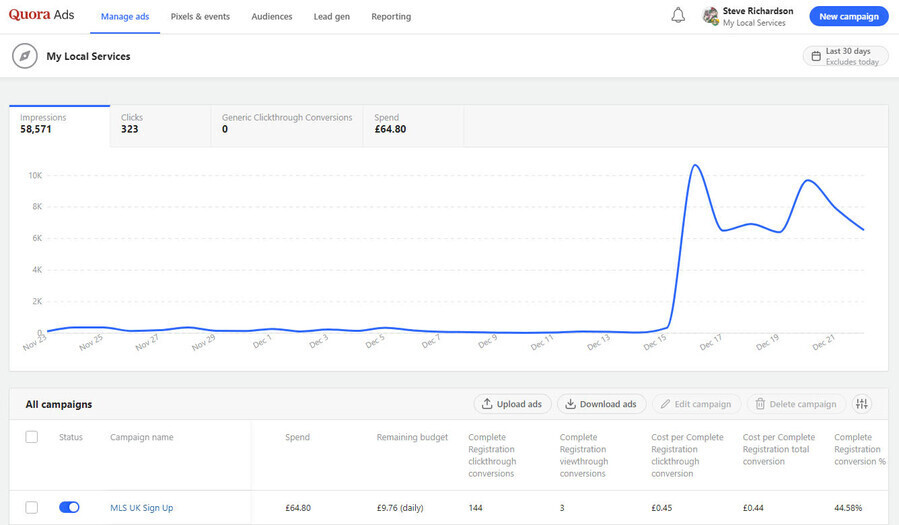 So what started as a half-hearted experiment is turning into a viable lead generating machine.
If like me you are a bit cynical about advertising on Quora, I'd suggest you rethink and give it a try. Allocate a small budget, just £5 - £10 per day. Set up a block of adverts (I did 4), let them run for a week and check the analytics and see how they are performing.
As with any PPC program, it is about test and tweaking until you are getting a viable return you are happy with. But make sure any changes you make have time to bed in and show results (good or bad) before making more changes. The advantage of Quora is you can target specific topics and conversations with your advert. Not only that, you can see what sort of topics and conversations are making the noise and plan your adverts accordingly. Whereas Google tends to be more general. I can see this working for most type of businesses, whether service or product-related.
To monitor goals, like other PPC programs you will need to add a bit of code to your website to track events, and then add a goal conversion event to the pages that you want to track as a success. But this is straight forward, and if you don't have access to your websites code, talk to your web developer for who it should be a 5-minute job.
If nothing else, it's worth a look as a potential lead generation tool in this ever more uncertain world. I'm still a big fan of Google, regardless of our recent spat, but I think Quora is a lot more effective than say Facebook PPC, at least in my industry.
If you do try it or use it, report back and let us know how you got on. If anyone wants an update as to how my campaign is going, ask me in a month or twos time and I'll put some more screenshots up.
"
I am also a fan of Quora, It is very useful for me because I can gather more information about certain things.
"
I think corona second wave impacts every business nowadays. Share Market down, we can't get the new business and existing business owners hold the service. It impacts everyone financialy.
"
Yup, some businesses get bankrupt right now. I guess that was made by the pandemic as well.
We are all faced with difficulties constantly in every area of our lives. The truth is that you will have to deal with difficult problems throughout your life. Running away from your problems is the worst thing you can do to deal with the challenges you are faced with. Living in this world is really frustrating. In your current situation, what challenges/difficulties are you currently facing off right now?
"
HAHA .. My 1 grandchild is 1 of them.. He is doing OK though as we enforce it as he gets his school work from the school website and everything is printed off and returned to the school"
That's a good thing to hear. It's hard if a kid grew up slacker.

"
Hi guys,
Many apologies I realise my original post didn't post all of my question
It was regarding making vegetarian dog treats & if it was easier with less red tape than making treats with meat in them."
Hello Winter. I'm a vegetarian myself but my dogs eat meat, they're also definitely not picky eaters and adore treats of all varieties.
"
Of course. I would simplify into 5 easy steps.
Step one - Income - The first thing I would do is to write down what you receive in terms of your Income (Wages, Universal Credit, Benefits, Tax Credits, Pensions etc). So basically all the money that get paid IN to your bank account and work out the total.
Step two - Outgoings - write down your Essential outgoings (Mortgage, Rent, Council Tax, Water, Gas & Electricity, Car Insurance, Food, Clothing etc) and then work out the total.
Step Three - Affordability - is to work out the difference between your total Income Minus your total Outgoings. This will tell you how much you can afford to pay.
Step Four - Total Creditor Balance - write down all your creditors, their balances and then total them up.
Step Five - Debt Free Time - Divide total creditor balance (step four) by affordability (step three). This will tell you realistically how long will take to get you debt free in MONTHS.
The above steps are solely a basic guide. The Path to Debt Freedom is specific to your circumstances. If you have any difficulties, please let me know and I will try and assist you as best as I can.
Thanks"
Thanks for your helpful advice! I will work hard for it.