This is something I've been interested in for a long while, and it is now becoming more and more important. If you haven't heard of it, you will have seen it and maybe not realised, and the one thing professional marketeers seems to be sure of, this will replace or at least supersede current SEO practices, namely keywords and link building strategies.

Currently SEO is all about keywords and link building. If you want to rank well for the term builder in warwick, then you will no doubt be using this search term in keywords, H1 tags, some content on your page, and in the bad old days, hundreds of links with builder warwick as the anchor text.

Well everything is set to change, and indeed it has already started...

The search engines are now looking for structured data on your website, ie text or images on your web page that have been "marked up" behind the scenes with specific code. Invisible to humans, but very attractive to search engines.

It has been around for some time in the form of "snippets". Every time you see those review stars in the Google results against a business listing, you are seeing structured data.




So why the change?

Traditional SEO as already said is reliant on keywords. So if a user types in Builder Warwick into Google, it could generate a lot of results. Google doesn't understand what the content on your web page actually relates to, it can only pick up keywords and phrases, meaning a mishmash of search results.

Semantic Search on the other hand does understand your web site (in theory!)

Definitions

Semantic - pertaining to meaning or arising from the different meanings of words or other symbols
Definition provided by The Free Dictionary

Semantic search - a search or a question or an action that produces meaningful results, even when the retrieved items contain none of the query terms, or the search involves no query text at all.
Definition provided by WebLib

In other words, if you add code to the content on your page that tells search engines what it is, and add as much detail as possible, then a picture can be made up of what your web page is all about. This applies to all content, images, text, videos etc.

So someone typing a search query into Google may bring up your page, even if visibly, there is no mention of the actual query in title tags or H1 tags. Google has deemed that from the information it has about your web page, that it best answers the users search criteria.

Now this is all a bit utopian, and keywords and links are still very much top dog, but things are slowly changing. Have a look at this search for stratford cinema: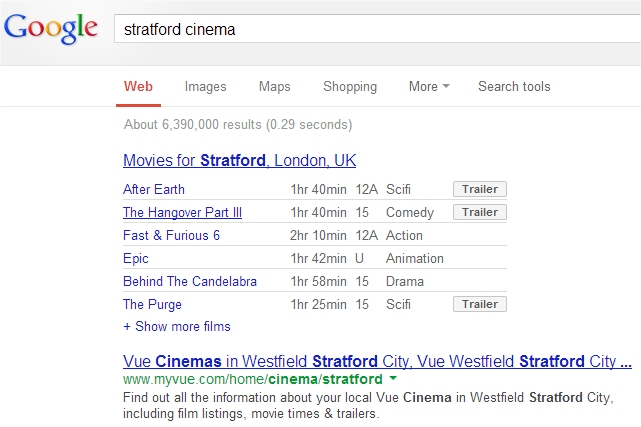 All of a sudden you can see the power and potential of semantic search.

This is just a high level overview, but if you want to know more, this is a good starting point:

Key Search Marketing Takeaways from SemTechBiz 2013

Now the question is, will this stop the surge of low grade SEOers, poor English content, link dumping and keyword abuse? I doubt it anytime soon, but it looks like the SEO world if finally going to start becoming more interesting.