I'm in need of a rant...
Watched Panorama last night who interviewed Edward Snowden, the American National Security Agency whistleblower, who is currently hiding out in Russia.
Don't know if anyone else watched it, but all I was left with at the end is he has made the world a more dangerous place. Terrorist and cyber crime organisations now have a better understand of how information is obtained, and more importantly, how to defend against it.
I wasn't convinced with his justification for leaking all this classified information, that it's wrong for security agencies to bulk collect information, and work together sharing relevant data. Also the argument that the State could tap into your iphone and eavesdrop, was just scaremongering, and who cares? If MI5 want to listen to the missus telling me to go to Tescos on the way home, then so be it.
But if they have the opportunity to stealthily record a paedophile or a terrorist via their own smart phone and track them down, then that's fine in my book.
It's no doubt good news for the lawyers as lots of legislation is being pushed through to cripple the ability of the likes of GCHQ, the Police and international security agencies.
I always thought the point of espionage and security agencies was it was to be keep under lock and key, with the wrapper of democracy and laws to prevent any overt misuse of powers. Having laid it bare and open to legal and public scrutiny I think has made the world a little less secure and scored an own goal.
Here's a great infographic from GCHQ that put's things into perspective when worrying about the State reading your shopping list.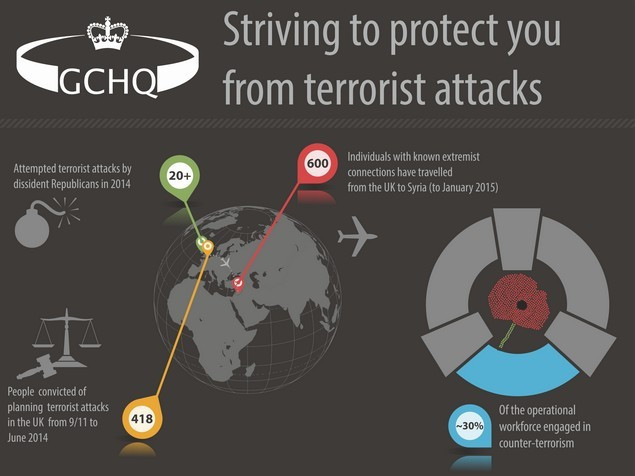 source: GCHQ
I wonder if ISIS will be performing a review of their own security policies and data collection techniques, in-between beheading people...
Anyone else watch it or have any thoughts? Maybe I'm being a citizen sheep and just letting the state do what they want, or should we be analyzing and legalising what our security forces do?
Or do you agree that if you've done nothing wrong, you've nothing to fear and let the security agencies get on with their job?